みなさんはこのことをもう知っているってわかっています
(高見麻子、5/24/2006、舞台の前に生徒たちへの言葉)
I just wanted to send you something for your dancing
(Asako Takami, May 24, 2006, her words for the students.)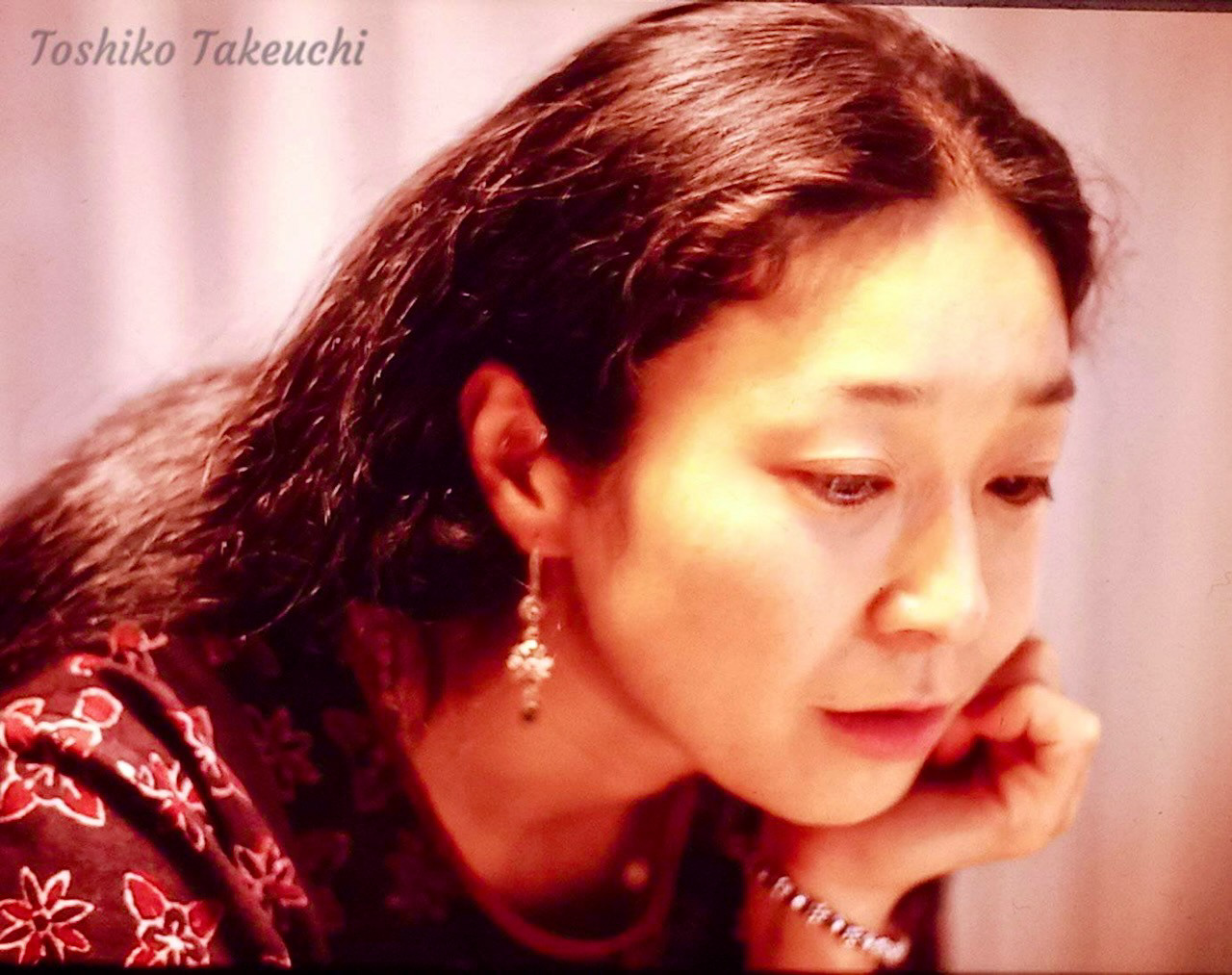 Born in Niigata-shi, Japan on April 19th, 1960. She first encountered Indian dance while studying at Joshibi University of Arts and Design, through Smt Madhavi Mudgal and Smt Leela Samson. In the same year, inspired by Smt Mina Kang's lecture demonstration at Myogadani Rinsenji temple, she joined the "Mina Kang Tagore Dance Club." There she learned basic Manipuri, Kathakali, and Tagore dance. In 1983 a concert held by Smt Sanjukta Panigrahi in Tokyo deeply touched her. Soon after, she met with Smt Kumkum Laal who lived in Tokyo at the time and started learning Odissi dance. 3 years later, she had an opportunity to join a 2 month intensive workshop held by Padma Vibhushan Guru Kelucharan Mohapatra. She also studied Indian Classical vocal under Smt Malini Subramanian. 
Asako followed Smt Kumkum Laal back to India in 1987, and there she studied under Guru Kelucharan Mohapatra, Guru Gangadhar Pradhan, and Guru Ramani Ranjan Jena at Odissi Research Center which had opened that year. In addition, she also studied Packhawaj (the drum that accompanies Odissi dance) with Guru Trinath Maharana in Delhi; and Sanskrit with Dr. Masayuki Ohnishi.
In 1991, she moved to San Francisco with Mukund Subramanian (the son of Smt Malini Subramanian). However for a couple years she did came back and stayed in Aomori, Japan for Mukund's extensive research. She started teaching dance upon her return to San Francisco in 1997. She named her community Pallavi Dance Group. During that time she did many performances in Japan and the U.S..
Around 1999 Asako met Ralph Lemon, and explored contemporary dance together. She performed in "Tree, Part 2 in Geography Trilogy", choreographed by Ralph Lemon (2000). And was nominated by the Isadora Duncan Awards Committee as a finalist for the best performance in Individual performance division for "The Piper," choreographed by Yasmen Sorab Mehta, California Contemporary Dancers.
On January 8, 2005 she held a performance for her good friends at a private residence in Oakland, California. On August 28 that same year, she performed her last concert at Kichijoji, Tokyo.
Dparted on November 3, 2007. She now rests in peace by the pond in San Francisco Golden Gate Park.
1960年4月19日 新潟で生まれる。
1979年 美術を勉強していた学校のちいさなクラスルームで、マーダヴィー ムドゥガルとリーラ サムソンによるインド舞踊に出会う。その年、茗荷谷、林

泉寺

における、康米那氏のレクチャーデモンストレーションに感動し、氏の主催する「かんみなタゴールダンスを踊る会」に入会。マニプリ、カタカリの基礎、タゴールダンスを習受。
1983年

サンジュクタ 

パニグラヒの日本公演直後、来日したクムクム ラール氏より、オディッシーダンスを習い始める。
1986年 パドマビブーシャン グル ケルチャラン モハパトラ来日、2ヵ月に及ぶ集中レッスンの機会に恵まれる。
1987年11月から88年5月 渡印。オリッサ州ブバネシュワールにその年開校したオディッシー リサーチ センターにて、グル ケルチャラン モハパトラ、グル ガンガーダール プラダーン、グル ラマニ ランジャン ジェナの指導を受ける。さらに、パッカワージ(オディッシーの音楽を演奏する太鼓)をデリーで グル トリナート マハラナに、サンスクリット語を大西正幸博士に習う。その後、渡印を繰り返して、勉強を続ける。
1991年 ムクンド スブラマニアン氏と渡米。
1993年 ムクンド氏の研究のために青森県に長期滞在する。数年後サンフランシスコに戻ったのち、「パラヴィ ダンスグループ」を創設。アメリカ、日本各地で公演活動多数。
2000年 コンテンポラリーダンス作品「Tree, Part 2 in Geography Trilogy」、Ralph Lemon氏による振り付け
2000年 サンフランシスコにてイザドラ ダンカン ダンス賞個人パフォーマンス部門で最終選考に残る。「The Piper」Yasmen Sorab Mehta(カリフォルニア コンテンポラリー ダンサーズ)による振り付け。
2005年1月8日 米国

カリ

フォルニア州オークランド友人宅で公演。
2005年8月28日 東京、吉祥寺で公演。最後の公演となった。
2007年11月3日 サンフランシスコ内ゴールゲンゲート公園の池のほとりで永眠。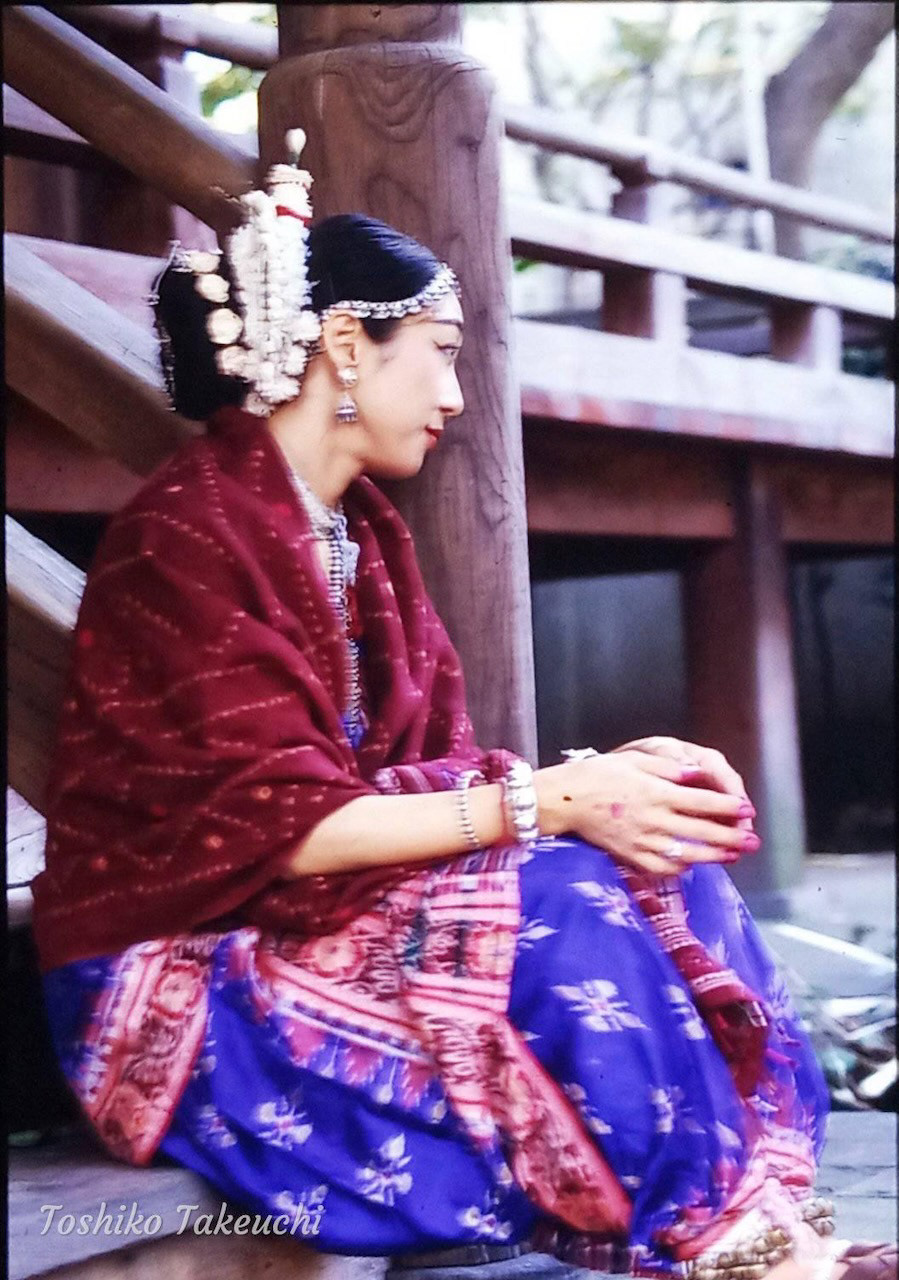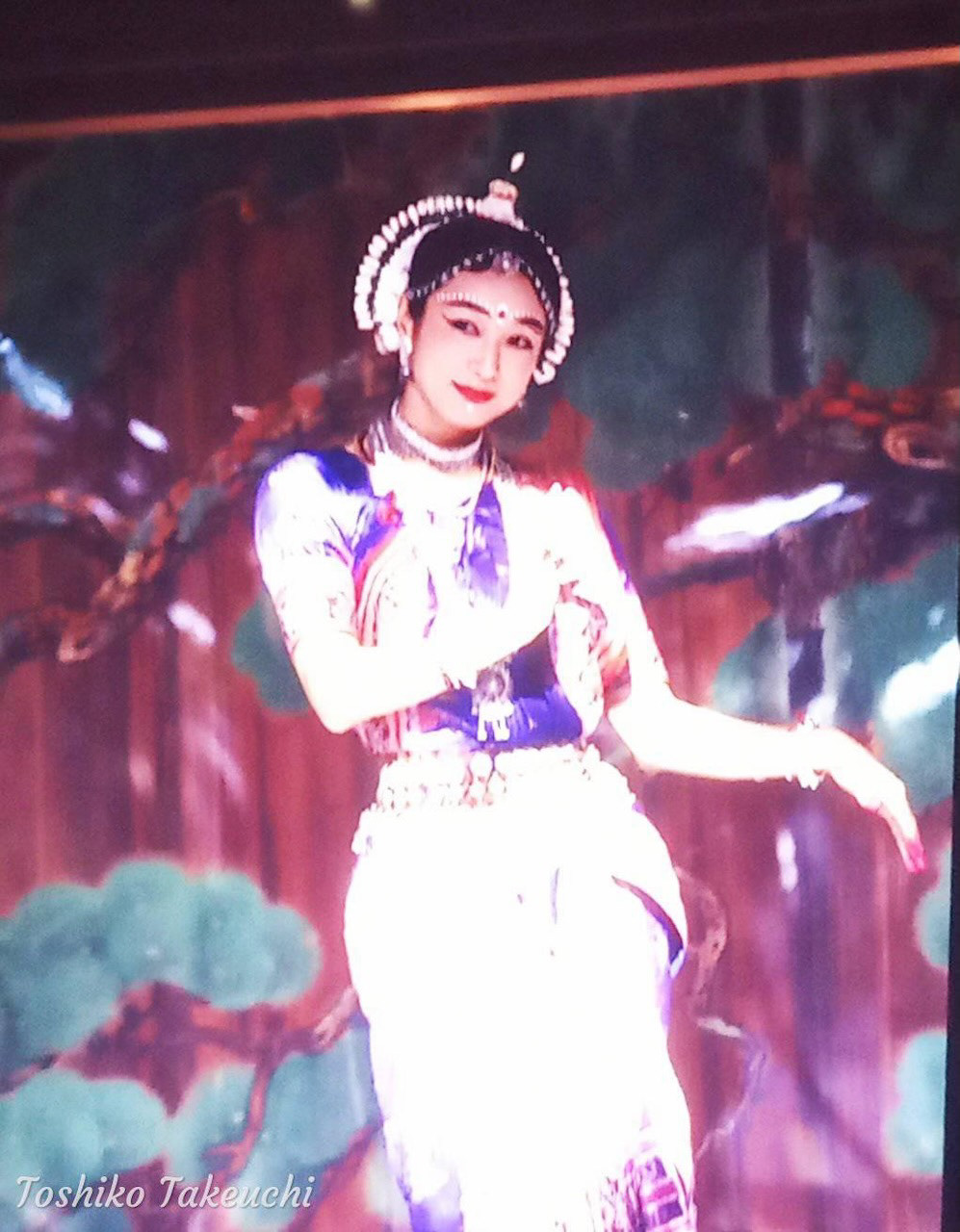 Asako Takami, her whole being was the dance, the music, the beauty
I woke up in the middle of night, and found myself thinking about Asako. I used to think about her all the time for years and years. I think Asako and I, Haruko Tanaka, her student, are like twin sisters. She came into my life only briefly and vanished quickly. When I dance, I always hope that she would possess some part of me. 
We are fond of the same kind of things. Beautiful things. When she was clearing out her apartment in Oakland to move out, she asked us to come help. When I arrived, Yumi Arai's music was playing. We both found that we liked this particular song called "Asahi no nakade hohoende (please smile in the dawn)".
Asako was always singing. When I visited her with my daughter who was three years old at the time, Asako spontaneously sang in the melancholic tune of raga to my daughter. She sang for a long time. It was very beautiful. Even her executing mundane daily tasks grabbed my attention, like doing the dishes. Turning the water off frequently so as it to waste it, she neatly rinsed the dishes. Her movement was as if her ether was flowing from her fingertips. Till that time I did not think a human could encapsulate such thing.
Asako watched her teacher Kumkumji, perform "Kuruyadunandana". There were some particular lines that had strong imagery during the performance, for example at the line "Alikula…." (my eyeline is darker than honey bees), Asako wrote that it was as if she could envision a real honeybee by Kumkumji's eyes when Kumkumji blinked. She also wrote that when she was in front of this Mithilar painting, she felt as if the objects in the painting were moving. When she saw the Japanese embroidery Buddhist mandala scroll, the embroidered dancing rabbit in the moon and the smoke rising from a vase seemed as if they were moving. I wonder if she was good at tuning into the energy and embody the fine art productions.
Asako wrote this after a few years of learning dance. (She was still in her 20's):
Dance is something I learn until the end of my life. It is something connected to myself deeply. It is more important than my occupation. My guruji, Kelucharan Mohapatra tried to attain absolute beauty throughout his life. His dance was the eternal essence of beauty… I myself would also like to take this path. Costumes, ornaments, elaborated lighting, large scaled stages, etc. — — All of those, I do not need. What I aim for is "pure art", not the elaborate performances.
Even though she was still young and was very much involved in the professional dance scene, she clearly knew what her dance pathway was. I can only image it being a very different image of a pathway compared to her peer dancers. However, I feel Asako was a person who attained soul maturity at a very young stage in life. That is why everybody fell in love with her, isn't that right?
(Haruko Tanaka, Odissi dancer)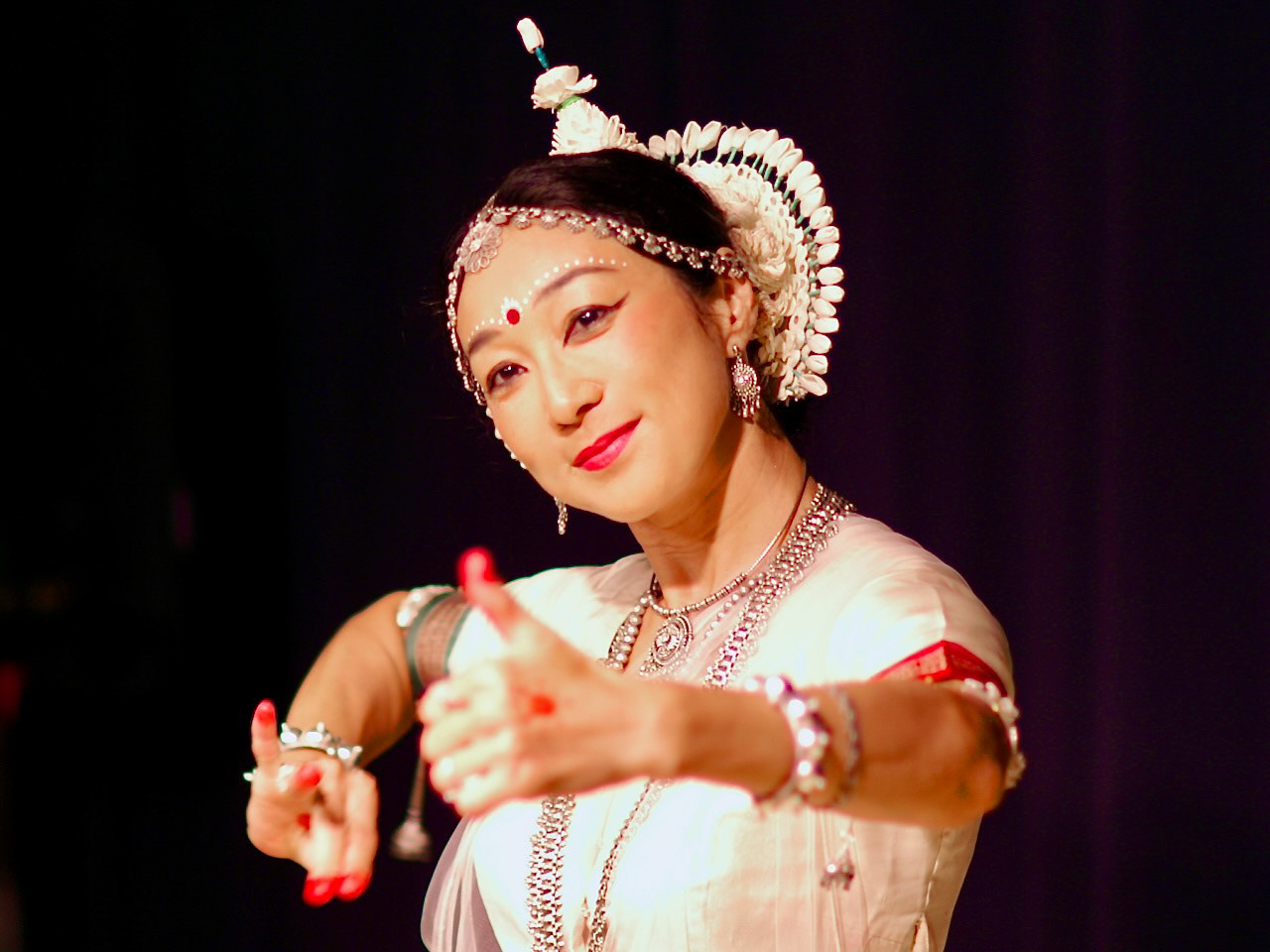 夜中に起きて、麻子さんのことを想う。もう何年もいつも麻子さんのことを想って生きていたことがある。麻子さんと弟子の私、田中晴子は中身がほぼ同じで、まるで双子のようだと自分でも思う。私の人生にほんの少しの間現れてさあっといなくなってしまった麻子さん。踊っ

てい

るときは、いつも麻子さんが乗り移ってくれないかな、と思いながら踊っている。
私たちは似たようなものが好き、美しいものが好き。オークランドの部屋を引き払うからお掃除を手伝いに来てと言われて行ったとき、荒井由美の音楽をかけていた。二人とも「朝日の中で微笑んで」が好きだった。
麻子さんはいつも歌っていた。3歳の娘を連れてお見舞いに行ったとき、娘のために即興で少し哀調のラーガの旋律で歌ってくれた。すごく長く、とてもきれいだった。お皿を洗うときの丁寧なやり方、水を出しっぱなしにしないでこまめに止めては、きれいに濯ぐ、手先からエーテルが流れるような仕草は、現代の人にはできないな、とあのころ思った。
クルヤドナンダナという作品で「

Alikula

...」(蜜蜂よりも黒い私のアイライン)のところ、クムクム先生が目をぱちぱちっとすると、ほんとうに蜜蜂が見えた、と書いている。あるミティラー細密画の前に立っていたとき、絵の中に生き生きと描かれたものたちが、急に動き始めたように見えたとも。和刺繍の仏教画を見たとき、月で踊る兎、壺から立ち上る煙がまるで動いているようだったとも。優れた芸術作品だけが纏う気配に波長を合わせるのが上手なのかもしれない。
踊りを始めて数年くらいの20代で麻子さんはすでにこう書いている。
踊ることは「一生をかけて学ぶもの」で職業というよりは、もっと私と密接なものだ。もっと重要なものだ。師匠、グル ケルチャラン モハパトラは、芸術、美の究極に人生を通して近づいているのだ。私はその永遠の真髄ともいえる究極を私自身、歩んでいきたいのだ。そこには、コスチュームも飾り物も照明も大きな舞台も必要ない。私が目指しているのは、舞台芸術ではなく、私個人の真の芸術だ。
若くて、プロフェッショナルな踊りのシーンにすごくかかわっていたのに、はっきりと自分の好きな踊りの道を、しかもきっとそれは周りのダンサーたちとはずいぶん違っていたに違いない、それがわかっているなんて、ずいぶん成熟した魂だな、と思う。だから麻子さんに会う人はみんな恋しちゃったのでしょうね。(田中晴子、オディッシーダンサー)